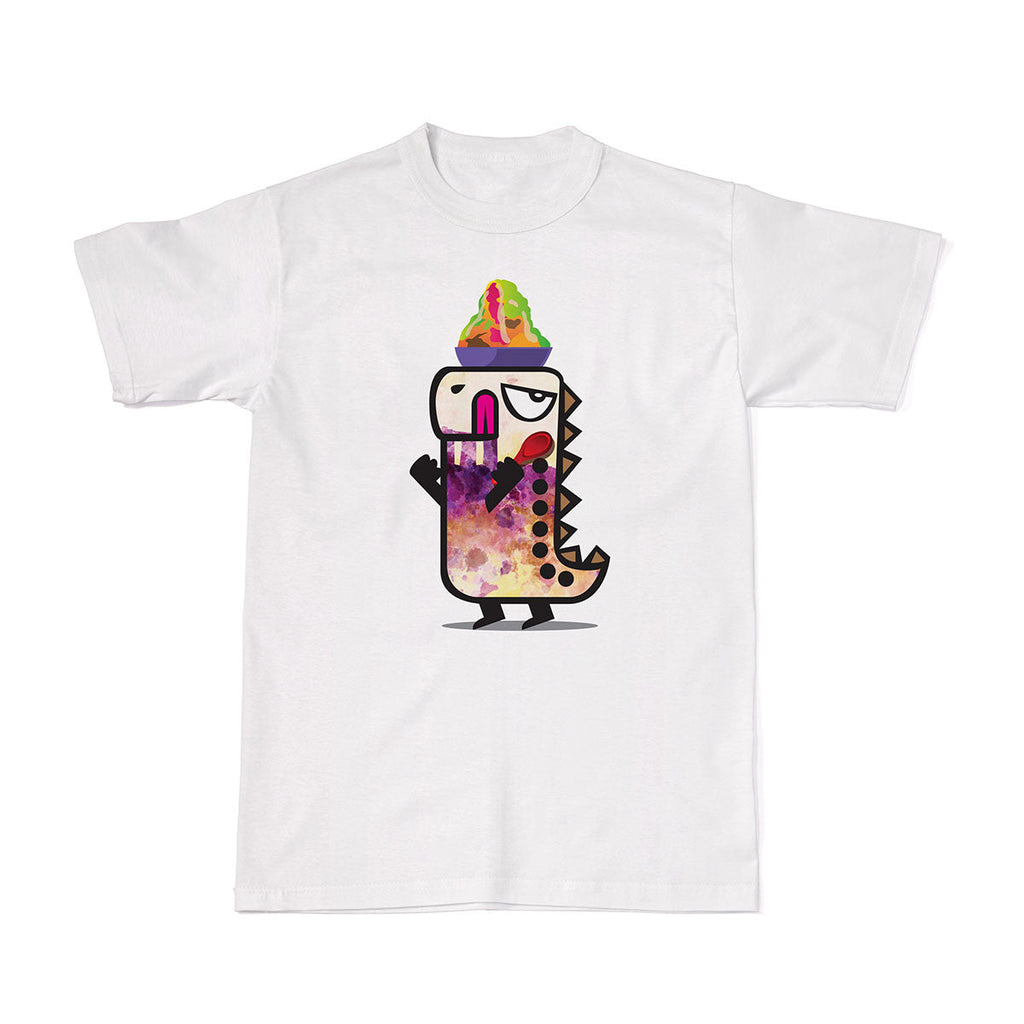 Adventure Tees - Rawr & the Ice Kachang T-shirt
Singapore Designer Tees l Tee-Saurus SG Special - Rawr & the Ice Kachang Tshirt
Shop Singapore designer t-shirts with Tee-Saurus. Meet Singaporean style Rawr & the Ice Kachang design tee in 100% premium cotton. FREE shipping in Singapore!
Tee-Saurus is craving for something cold, colourful and tasty to rid off the hot weather! Now in the hot and humid Singapore, nothing beats having an ice cold dessert to soothe your soul. The signature Singaporean ice kachang, a dessert that most if not all kids and adults will like. Syrups of all kinds are poured over a tower of ice. My favorite is the brown syrup which is Gula Melaka. All mixed to give you that rainbow appearance. Topped with carnation milk. Some top it with corn, peanuts, durian paste, ice cream, depending on their preference. Underneath the ice there are generous servings of red bean, the green jelly, black jelly, attap seeds for the ultimate indulgence. Go on and order one today!
Our tshirts are exclusively illustrated, designed and printed in Singapore. This Tee-Saurus tshirt is uniquely yours. Wear your tshirt the Singaporean style! Get soaked in the diverse Singapore culture, arts, food, heritage, festivities, nationalities, multi-racial harmony, etc, distinctively Tee-Saurus style! Go on, put on the tshirt and ask your friends to join in the fun!
Full printing on 100% premium cotton
Pre-order takes approximately 9 days.

It will be mailed to you via normal postage.


Normal Postage fee is included. Free Postage is only applicable to Singapore only.
All ideas, concept design, characters and fully original illustration are the property of Tee-Saurus. Tee-Saurus reserves all copyrights to this idea, artwork which cannot be reproduced or modified (whether in part or whole) without first obtaining written consent. All rights reserved.